The stunning new Digiana iTube-201 combines a powerful FM Transmitter, Auto Charger, and Flexible Dock all into one device. Created specifically for the iPod (Video, 60GB and 30GB) and iPod nano, the iTube-201 lets you take your iPod on the road in style... its brilliant design, with a blue backlit display and blue LED pulsing light strip, integrates handsomely with your car's interior all the while streaming your iPod's music to your car's stereo speakers. The iTube-201's powerful FM transmitter delivers superb sound quality while its flexible iPod dock positions your iPod for safe and optimal access to its controls and display. Finally, an iPod accessory that's as cool as your iPod. Get yours today for just $59.
Radio Catcher!
The AudiaX iTube-201 is the most functional and elegant FM Transmitter, Auto Charger, and Flexible Dock ever created for the iPod nano and iPod 5G (Video). Plugged firmly into your car's cigarette lighter socket (with the help of specially designed rubber gaskets built into the iTube-201's cigarette lighter adapter) and holding your iPod within easy reach atop its flexible neck dock, the iTube-201 transmits a clear, strong signal to your car's stereo system along any FM frequency between 88.1MHz and 107.9MHz that you choose... all the while powering and charging your iPod! Even metropolitan areas are no match for the iTube-201's strong, "radio-catching", signal.
Form follows Function
The iTube-201's elegant and functional design incorporates a flexible steel neck which allows your iPod to be positioned in your car at the most convenient and optimal location so you can safely reach your iPod's controls and see your iPod's display while behind the wheel. No more fumbling around for an iPod that has slipped down in between seats or that's been flying all over your car because there's no secure place to put it. Your iPod is safe, protected, and secure in the iTube-201's flexible neck dock.
Portable Entertainment iPod
And because it sits atop a flexible neck, your iPod can also be positioned so that your PASSENGERS can watch videos (on the iPod 5G, Video) comfortably without having to hold the iPod in their hands... thereby becoming a portable entertainment system. Plugged into a rear seat cigarette lighter adapter means rear passengers can get it on the fun as well! And plugging headphones into the iPod's own headphone jack while it is connected to the iTube-201 will allow a car's passengers to listen to music or watch videos privately as the driver listens to his own music through the car stereo. All the while the iTube-201 is powering and charging the iPod meaning that the tunes and videos will never run out while you're on the road... and once you reach your final destination your iPod will be fully charged and ready to go!
Easy to Reach, Easy to Read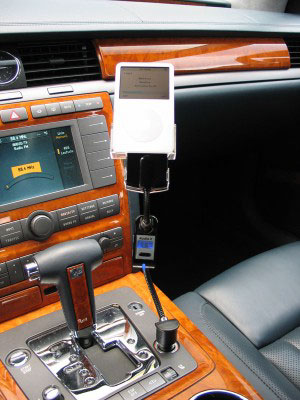 Controlling the iTube-201 couldn't be easier with its easy-to-read blue-backlit display showing what frequency it is currently set to. There is a "Frequency up" button and "Frequency down" button to change the frequency in 0.1 increments and a memory button in front for instantly tuning to one of the iTube-201's four programmable station presets. The iTube-201 will even turn off automatically and switch to "Charging-Only" mode after 60 seconds if the music from the iPod has paused or stopped. If you hit play on your iPod the iTube-201 will sense the audio signal and turn itself back on automatically as well! There is a blue light strip on the iTube-201 that pulses to the beat of your favorite music (which you can turn off if you prefer) and glows steadily when in "Charging-Only" mode.
Features
AudiaX iTube-201 compatible with iPod 5G (video) and iPod nano. (Also compatible with iPod mini).
Full FM Frequency Range: 88.1MHz to 107.9MHz in 0.1 Increments.
Powers and Charges iPod.
Conveniently Positions iPod within Easy Reach for Access and Viewing.
Four Programmable Memory Presets.
Elegant, stylish, and ergonomic design.
Blue Backlit LCD, Charging Indicator, Strobe Light Bar.
Auto On/Off
Specifications
Frequency Range:
88.1MHz to 107.9MHz
Input Voltage
12V DC
Memory Locations
4 Memory Presets for storing frequencies
Power Supply
Vehicle Cigarette Lighter / Vehicle Accessory Power Outlet
Size
12.5" x 1.5" x 2"
Weight
68g
Warranty
1 Year

System Requirements:
p/n ITUBE-201: iPod 5G (Video; 30GB, 60GB), iPod nano, (also compatible with iPod mini)