MCE Technologies has a complete line of internal upgrades specifically designed for the Apple Mac Pro. MCE SuperDrives, Blu-ray drives, hard drives, and memory upgrades for the Mac Pro are easy to install, 100% compatible, come complete with installation instructions and, should you need it, include toll-free technical support.
MCE 18X SuperDrive for Mac Pro
The Apple Mac Pro has room for two on-board SuperDrives. With an MCE 18X Mac Pro SuperDrive installed in your empty optical bay you can perform disc-to-disc copies, burn two discs simultaneously with the same data or entirely different data, or have two media library volumes available without ejecting and switching discs. The MCE 18X Mac Pro SuperDrive comes pre-configured specifically for the Mac Pro with no settings or jumpers to fiddle with. Once easily installed, the drive is natively supported by your Mac Pro for full compatibility with all applications that support burning such as DVD Studio Pro, iDVD, iTunes, iPhoto, iMovie HD, Finder Burning, etc.
MCE 18X SuperDrive Specs


18X
DVD-R, DVD+R
10X
DVD+R DL (Double Layer)
10X
DVD-R DL (Dual Layer)
6X
DVD-RW
8X
DVD+RW
40X
CD-R
32X
CD-RW
Bootable
Compatible with all Apple iApps

Blue-ray for Mac is here!
MCE Technologies was the first company to ship an internal Blu-ray solution for the Mac Pro. With the MCE Blu-ray drive you can archive up to 50GB worth of data to a single disc! That's ten times more data than a single-layer DVD can hold. Included with your MCE Blu-ray drive is Roxio's Toast 8 Titanium. Toast 8 Titanium includes a feature called Toast Dynamic Writing which turns your MCE Blu-ray drive into a giant hard disk and allows you to drag and drop files directly to the Blu-ray disc icon on the desktop to dycamically add or remove files. Get more information about the MCE Blu-ray drive for Mac Pro here.
MCE Blu-ray Drive for Mac Pro Specifications
Media

Single-Layer Writing

Dual-Layer Writing

ROM Reading

2X BD-R
2X BD-RE
2X BD-R
2X BD-RE
2X BD-ROM
8X DVD+R
8X DVD+RW
8X DVD-R
6X DVD-RW
5X DVD-RAM
4X DVD+R DL
4X DVD-R DL
8X DVD-ROM
24X CD-R
16X CD-RW
&nbsp
32X CD-ROM

MCE High Performance Internal SATA Hard Drives for Mac Pro
Your Mac Pro, one of the fastest desktop computers ever created, deserves only the highest performance SATA hard drives available and MCE Technologies delivers. With capacities from 250GB all the way to 1TB, all MCE ProStor SATA hard drives for Mac Pro feature 3Gb/s SATA II interfaces, 7200RPM spindle speeds, and minimum 8MB cache buffer to make sure your Mac Pro's hunger for data is always satisfied. Your Mac Pro has four internal SATA drive bays each on its own independent 3Gb/s channel for a total maximum capacity of 4TB. Whatever capacity drive you fill those bays with you can use Mac OS X to create a lightning fast RAID 0 (striped) configuration for video editing or create a RAID 1 (mirrored) array for instant backups, as you work, of your videos, photos, music or other digital media. Click here to buy now.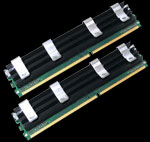 Experience the Native Speed of your Mac Pro with MCE RAM
With the simple addition of more RAM from MCE Technologies you will instantly notice a speedier, snappier system with faster startup times, faster application launches, and significantly faster overall performance. There is no quicker, easier, or more economical way to increase the performance of your Mac Pro than by simply adding memory (RAM). With a total of eight DIMM slots available, you can install up to 16GB of memory. Mac Pro memory must be installed in pairs and so MCE Memory for Mac Pro are available in 1GB (2 x 512MB), 2GB (2 x 1GB), and 4GB (2 x 2GB) kits. To help dissipate heat, every MCE DIMM you purchase for your Mac Pro comes with its own preinstalled heat sink. This unique heat sink lets fans run slower — and quieter — yet keeps the memory cool enough to run at full speed. Click here to buy now.